Updates

Here you will learn about our mission to build a Dog Park in Sutherlin, Oregon, and how you can help. Updates on our progress will be posted here as they are available.

September 2012

Sutherlin City-Wide Garage Sale

The Sutherlin Dog Park will be having a booth at the City-Wide Garage Sale! Stay tuned.

August 2012

Play Day at the Dog Park

The Sutherlin Dog Park is celebrating it's 3rd Anniversary by having a "PLAY DAY" on Saturday, August 4th, from 9:00 AM until 12:00 PM!

There will be games, contests and of course a birthday cake.

Registration will start at 8:45 AM, followed by:
Snoopy Says
50' and 100' foot dash
Obstacle Race
Biscuit Catching
Ball or Frisbee Toss
Spoon and Potato Race
Bobbing for Weenies
Dress your Dog
And More
We'll be expecting you and your dog (bring your leash!).
The games will be played in the big dog side. The little dog side will be open to the public as usual.
June 2012
Woofstock
Woofstock turned out to be a fairly successful event for the Dog Park. $126.50 was collected in sales and donations. The weather probably kept people away, so this could be a really nice event in the future. Kudos to Debbie Hauser for the fabulous banner that led the parade and graced our booth afterward.

Play Day at the Dog Park
The June 30,Play Day at the Dog Park has been postponed.

March 2012
Pizza Fundraiser
The pizza fund raiser in March was a success. A big thank you to Abby's for hosting us and to all of you that came for pizza.

August 10th, 2009
The Park Grand Opening was held on August 8th. Approximately 50 people attended with lots of dog having fun. Deputy Lee Bartholomew of the Douglas County Sheriff's Animal Control Department cut the Leash on our own Daisy Dog to officially open the Park. He also gave a short speech about the benefits of a Dog Park to the community.
July 19th, 2009
We are still fundraising to finish brick "Honor Wall" and maintain the park. The Honorary Pet Mayor of Sutherlin fundraiser is presently going on to raise money for both dog park and Lions Club of Sutherlin. Nik, Small Pony; Accee, German Shepherd; and Simon, the Bulldog are the three candidates. It will be determined on August 17th, 2009 who our Pet Mayor will be for the year. The honorary pet will be in the city parades and different events during the year. We hope you will consider voting for one of these pets. We invite all to attend our Grand Opening where all three candidates will be present. We also will be thanking the City of Sutherlin for allowing and making possible for us to have this off-leash dog park. We believe this will be a great asset to our town.
The Sutherlin Dog Park is located at Hartley Park located at West 6th & NW Maple in Sutherlin, OR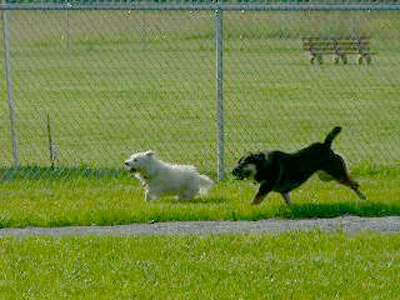 Dog Park Projects
Current projects are:
Drainage
Sidewalks inside the park
Upcoming Events
Play Day at the Park - June 30, 2012
Agility type fun and games at the Park for dogs and their people.

If you have any suggestions or ideas for the Dog Park, please email them to us.